Magicians in Camp Hill PA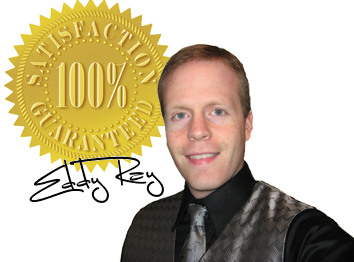 Reserve Your Date and Time Today! Call Eddy Toll Free: 1-877-297-7252 or email info@PennsylvaniasBusiestMagician.com .
You can also fill out our event form below!
This Magician in Camp Hill Is The Only Certified In Town!
Why Hire Magician Eddy Ray? Find Out Why He Is The Best Solution For Your Next Party!
Eddy Ray is PA's busiest magician. He provides fun filled magic shows for both kids and adults, so you no longer have to worry if his show is appropriate! Here are some important reasons you should consider hiring Eddy Ray over other entertainers in the area.
Eddy Ray is the only local magician to perform professionally. He performs over thirty magic shows each and every month and is the most in demand magician in the area. This simple fact alone proves that Eddy Ray provides memorable and exciting magic show packages. Eddy can usually be found entertainment at private parties, in libraries, for camps and scouts, company picnics, and many other events both private and public.
Becareful if you hire a magician who performs only part time. Will they arrive on time and delight your guests.. or will you be let down and stressing out wondering how good their show is? Don't risk hiring a magician who might not show up and or even have an age appropriate show. Since Eddy Ray makes his living performing magic shows, he takes every job seriously and gives the upmost professional service. Don't get stuck hiring someone who may ruin the entire event or party!
Eddy Ray also offers a satisfaction guarantee for his magic shows. Not many other magicians in do this which begs the question, how confident are they in their magic shows? Eddy Ray is so confident, because he has the experience and talent to give your guests a fun and memorable time, each and every show.
Magician Eddy Ray can create entertaining magic shows that entertain both kids and adults. No longer do you have to worry about finding the right entertainer, Eddy Ray is your choice! Eddy blends his fun personality into comedy magic routines that will have your guests LOL'ing and he also mixes in visual sleight of hand magic that need to be seen to be believed!
Eddy performs ONLY clean comedy and incorporates tons of audience interaction, and offers many show package options varying in length. This way you will get an entertainment package that will suit your event perfectly! Don't get caught in a bind by only getting offered one choice like some magicians, simply ask Eddy Ray what kinds of magic packages he can create for you!
If you are planning an event and want to add that professional and magic touch, contact Eddy Ray right now. Eddy Ray can be reached at 1-877-297-7252 , call 24 hours and 7 days a week. Make your event shine with a magical spark from Eddy Ray!
Did you know Eddy also performs in Elysburg , Gettysburg , Emmaus , and more. Hire Eddy Ray to come to your town and amaze your guests!!!