Magicians in Carlisle, PA
Call Us Now 1-877-297-7252 or email info@PennsylvaniasBusiestMagician.com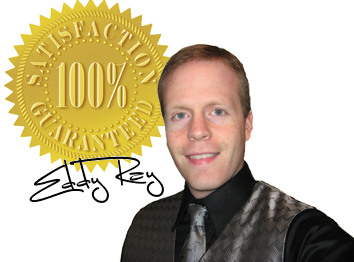 Eddy Ray's Shows Are Backed 100%, Guaranteed Satisfaction!
Check Availability, Pricing, And Book Now!
Call Us Now 1-877-297-7252 or email info@PennsylvaniasBusiestMagician.com
Why Hire Magicians in Carlisle PA For Your Upcoming Party?
Below Are A Few Reasons You Should Consider Hiring Magician Eddy Ray
Magicians For Hire: Eddy Ray is the area's top magician and family entertainer. Eddy can create a memorable event for you by providing high quality family fun entertainment that is perfect for kids and adults! Eddy has been performing for both kids and adults for years and years. Stay away from magicians who don't specify if they can perform proper age appropriate material in their magic shows. Some local magicians only perform for adults and this certainly would not be a fun show for kids to watch. It would also be very embarrasing for you! Not to worry though, Eddy's shows are G rated and are enjoyed by thousands of children and adults every year!
Another reason to consider hiring Eddy is that he guarantees your guests will be smiling, laughing, and having a great time throughout his magic shows. If you are not satisfied, you don't owe a penny! Not many other magicians, if any, offer such a guarantee.. how serious are they about their work? Hire a professional magician who provides excellent customer service and a fantastic magic show! When it comes down to it, Eddy truly offers a win-win solution for your party!
What is another factor that separates Eddy's magic shows from others? Audience involvment. Would you like to see your guests or your child get involved in the magic show? Memorable moments are created when Eddy Ray gets volunteers to help throughout some magic routines in his show. Most other magicians don't understand the importance of getting the audience involved. Eddy doesn't want your audience just to sit and watch, he invites volunteers up numerous times throughout his show to inspect props, tie him up for escape routines, help him perform magic and so much more. Imagine the fun and excitment your child or guests will have being directly involved in the magic show!
Affordable options and entertainment solutions allow you choices. Eddy offers many popular magic show packages that can fit any event and most of his shows can vary in size, and length of time. Don't let other magicians leave you with one choice when it comes to the kind of show or length of show. If you need the magician to cover a certain amount of time, or have other requests, don't be shy when asking Eddy Ray. He works with each and every client and can create unique magic show entertainment packages that will be just for you. Whether it's a small event or large, ask him what kind of show would be best for you. The more details you provide about your event the easier it is for Eddy to offer the best magic solution for you.
Eddy can also provide you with recommendations and customize magic shows by theme, unique packages, and more. Since Eddy performs over 200 plus shows a year he can offer you magical solutions that others cannot!
Check out some other areas Eddy performs at: Manheim , Lebanon , York etc. These are just a few areas as Eddy Ray performs across the nation and internationally.