Magicians in Ephrata PA
Amazing Magic Shows For Young And Old!

Book Today, Dont Delay! 24 hours and 7 days a week toll free 1-877-297-7252 or email info@PennsylvaniasBusiestMagician.com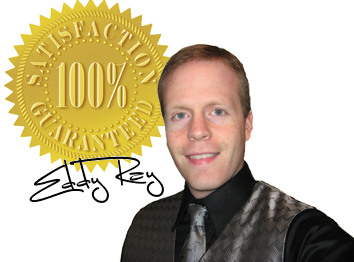 Get Quick Pricing Info and Availability Now To Secure Your Date and Time! Call 1-877-297-7252 or email info@PennsylvaniasBusiestMagician.com
Certified Magician in Ephrata : Eddy Ray
Article On Why Hiring A Magician Is A Great Entertainment Solution For Your Party
Magicians aren't plentiful but there are some choices to make when deciding upon who to hire for your event. It's important to ask the magician if they perform full time. There are some entertainers and magicians who do magic as a hobby or in their spare time. This is all well and good, but you deserve to be confident in the choice you make. By hiring a professional magician in, one who performs full time, you will be confident in the fact that:
a) they must be good if they perform full time! (experience makes the difference!)
b) most professionals can offer party planning tips and advice making it easier for you
c) they can offer full testimonials and a client list
d) you will know exactly what you are getting for your money.
Now, keep in mind that just because someone is a professional does not mean they are not affordable too! You will be surprised at Eddy Ray though. His rates are affordable and he performs magic shows full time for kids and adults making his magic entertainment the perfect compliment to your event! How does Eddy Ray keeps his magic shows affordable?
Simple. Eddy offers a variety of magic shows that can be 30 minutes, 45 minutes, or even 60 minutes. Aside from his fun filled and popular stand-up magic shows, Eddy also can offer strolling close-up magic! Many clients even book both of these types of magic, making for magical combination that will make your event very unique!
Magician Eddy Ray has been performing since he was a child. He continues performing his family friendly magic shows all over the area and surrounding states. Eddy, unlike other performers, provides high quality and professional magic show packages that can help make your event special.
Eddy Ray has the necessary experience and know how becase he is constantly performing magic shows for audiences week in and week out. This is important because there are some magicians who perform shows however they only do it as a hobby. These magicians lack in experience and professionalism. It's important you make the right choice and stick with a professional. You will not be sorry! Consider this, would you hire an amateur to photograph at your wedding, or hire an amateur to cook in your restaurant?
Eddy Ray also guarantees that your guests will have such a fun time during his shows. If not, you don't have to pay a dime for the show! Keep in mind, Eddy is the only certified magician in town. This means that has met all the criteria necessary. Some of the criteria include interviews with past clients, work history/experience, quality of show and service, etc.
So, if you want the best experience from beginning to end, and want the most personable and talented magician around, contact Eddy Ray right now. He's very busy but is awaiting your email or call. Don't let your event date slip through the cracks... book Eddy today!