#1 Magicians in Harrisburg PA?

Harrisburg, PA Magician Eddy Ray Will Make Your Event Enchanting Will Incredible Magic!
Telephone Us @ 1-877-297-7252 or email info@PennsylvaniasBusiestMagician.com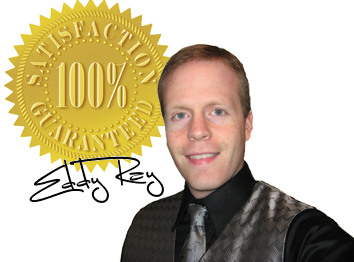 Action Packed Magic Shows Backed By A 100% Satisfaction Guarantee!
Fill out the contact form below to connect with Eddy Ray regarding your upcoming event.
Quick Tips For Hiring A Magician In Harrisburg Pennsylvania
1) When searching and browsing the net for magicians, or any entertain for that matter, be sure to find a magician who can gear their show towards the proper age range in your audience. Some magicians can't do this so it is important to ask, this will save you time. Eddy Ray is able to gear his magic shows towards kids and adults from 3 years on up. By finding a magician in Harrisburg who can perform for the correct age will prevent any confusion during the magic show and entertainment. Some magicians perform magic tricks that may be difficult for younger kids to understand. Make sure and find out what the appropriate age is for the show a magician might offer to perform.
If you have an adult event, some magicians might not have the sophisticated magic, talent, or experience to entertain them. Eddy has performed for large and small companies at tradeshows, cocktail parties, grand openings, banquets and more. He often performs sleight of hand close-up magic and his comedy magic show for adults.
2) Ask the magician what kind of magic trickst they might do for your event and what you can expect regarding the entertainment. This will help paint a picture in your mind and you will get an idea of what to expect. This visual reference will allow you to fully understand what the magic performance will be like. If the magician can't give you a good description then move onto the next or keep searching. Eddy Ray has pictures and video available and can help describe more about his shows if you email or call him. He'll give you a great idea of what you will see at YOUR event!
3) Not all magicians have the same skill set, experience, and understanding of what it takes to create a great show for your party. Some magic people only perform as a hobby and in their free time. This may be fine, but how good and professional will their show be for your event? Don't take the chances, try and find a professional just as you would with any other service. Professional magicians are time and audience tested, they know what works for audiences of all ages. Eddy Ray performs well over 20 shows for events every month, this experience is valueable!
4) Websites: Does the magician or entertainer have a good website with information? Some magicians have good sites, others do not. Is there detailed information on what they offer? Are there testimonials to read? Some entertainers cannot provide testimonials, be sure to get someone who can show you some results! Don't hire blind, you are taking to great a risk by doing so.
5) People often ask if a magician can customize their show for a particular event. Eddy Ray often customizes shows for parties, schools, libraries, and corporate events. You need someone who can be flexible and work with you to help make your event memorable. Eddy has done super hero, lego, wizard, science themed shows and many more. Got an idea or theme for your event?
So there you have some basic tips and recommendations regarding magicians in Harrisburg for hire. It's a pretty simply process to find the perfect magician for your event. Eddy is the only certified magician for kids and adults..and you can get free information on his services and magic shows. Contact him today.
Camp Hill - go there for more information on Eddy's shows in that location.